the Organic Light Garden - © Lloyd Godman
St Andrews Garden, Victoria Australia
Cherry Trees - there are three Cherry trees in the St Andrews Orchard
Cherry Blackboy - Planted in the Spring of 2005

deep red firm but juicy fleshed fruit with a large stone. Pollinators Napoleon, Bing and Early Moss

Photographs taken Nov 2007

| | |
| --- | --- |
| 2006 | |
| 2008 | 6 cherries |
| 2008 | 22 Sept in flower |
| 2009 | Jan - 3 cherries |

Cherry St Margaret - Planted in the Spring of 2005

This variety has large deep red almost black firm fleshed fruit. Tall deciduous tree requires pollinators William Favorite, Napoleon

Photographs taken Nov 2007

This tree died in the spring of 2008

A graft of Cherry Napoleon was made onto the tree in the winter of 2009

March 2010

Tree replaced with Cherry Bing - planted winter 2009

A graft of Cherry St Margaret was made onto the tree in the winter of 2009

A sweet flavoured cherry bering dark, medium to large fruit in early summer.

Pollinators Stella, Blackboy Van Williams favorite The tree was palnted in the winter of 2009

March 2010

Cherry Stella - Planted winter 2009

A graft of Cherry Sunburst was made onto the tree in the winter of 2009

Selpollinating variety and has large dark red fruit that are sweet and juicy Mid to late season

March 2010
Establishing the tree is one thing, protecting it against wildlife is quite another - the tree is surrounded by wire netting supported by star pickets to stop attack from wallabies who eat the leaves. The netting runs to the ground to stop rabbits who might ring bark the tree.
When in fruit it is also covered with netting to prevent opossums and parrots who eat the fruit. The Star pickets also prevent large Kangaroos who frequent the orchard from bashing into the tree and breaking it down.
I never had to worry about any of this lot in the New Zealand garden -
Pear Slug - also attacks cherry leaves
You do need to rid your tree of these pesky little blighters or they will come back in Autumn ten fold. Left untouched they can strip a small to medium size tree of its foliage. They will not eat al the foliage but feed on the leaf (skeletonise) it. As the leaf can not repair itself it falls and then this in turn is less energy for growth due to the lack of available chloroplasts present in the surviving leaves.

So how do you get rid of these leaf munching buggers.

So this leads us to either a mechanical means or a physical method

You have already eluded to the fact you do not want to squash them. So use drying agents such as lime or ash, this may be dusted on the tree foliage to dehydrate the larvae.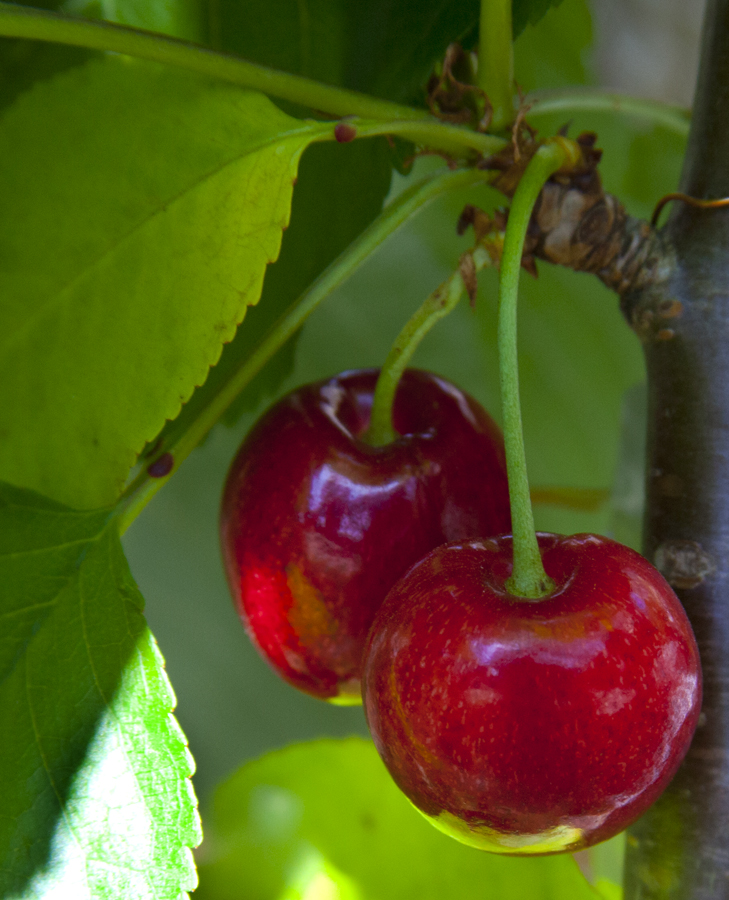 Stella Cherry - the first fruit from this tree - ripe in the orchard, 23 Nov 2012 -