Resonance I
I knew we needed a special image of Brighton Bay, something that could encompass as many aspects of Baxter's poetic vision as possible. I also knew that if this image was to include a large swell with the right lighting, we could wait about two years to get it right. But we did not have to wait too long before this image was taken late one evening, there was less than half an hour before the sun sank below the horizon and it was one of those rare events when the swell was very large and yet still clean due to a light westerly wind that was blowing, the sky was bright and clear. It was the low angle of the sun that sent the light kissing obliquely across the face of the waves giving the shot a special quality. I saw this effect driving back to Brighton and had to race home to get my equipment, scramble down the bank and around the rocks to a spot I knew I could get this wide panorama. The problem was to secure the tripod on the crumbing rock and get a series of shots that highlighted the aspects that related to Baxter's work before the light vanished.
This image shows from left to right:
The flax covered rock bluff of Big Rock with Green Island on the horizon. Lion Rock in the centre of the bay and Barney's Island the last rock outcrop on the horizon extending from the right. Further towards the right is the Domain, the bridge, the area where the river cuts the sand banks as it meets the sea, the glass fronted houses and the beach. On the far right is more of the rock bluffs of Big Rock.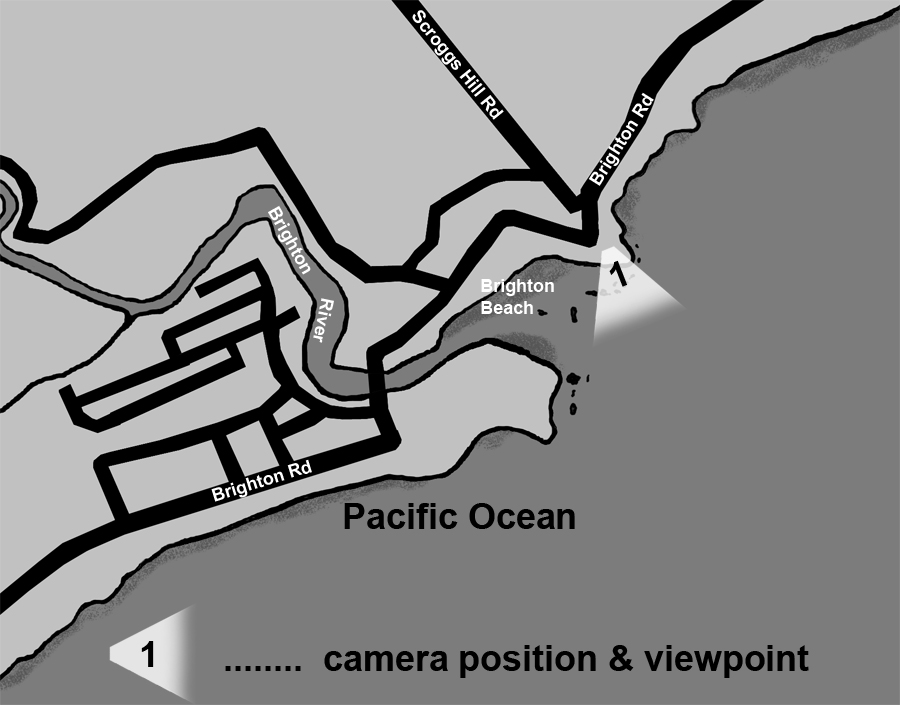 Map of Brighton Bay indicating where the image Resonance I was taken from
James K Baxter - Poem references
At Brighton Bay 1966 CP
The opposites of sex and pain
Like new - cut banks the river had gouged out------
Today I hoisted myself
Up the rock stair that's called Jacob's Ladder
This end of the bay, shoving through gorse, and stood
On the smooth edge of the flax-covered cliff
---
Brighton 1955
Glass - fronted batches stand and look
on the brown hurdling waves
---
October Water Poem 1963
The wind that cuts the flax like a new pocket knife--------
In which the sea has taken charge of the land.
No one can tell us how to get on good terms with the great
Sea devil or wind of middle age.
---
Love - Lyric V 1944
Flowers of foam from undersea yeast risen.
that die at a brackish river mouth.
The Rock Woman
Continually, as a boy, I came to this
Rock ledge above the sinuous wave.

---
The Storm 1961
In the morning I climb the gale-thrashed ridges
of flax and rock, look down on the lumbering surf.
---
Dirge
The dark swell's thunder
Below the crumbling rock----
where the green breakers rage
are shadows of old torment
---
Because the Flax Blades 1968
Because the flax blades bend above
the dark bay, this way and that