Resonance 3
Exactly which is the rock Baxter called "Prometheus" is difficult to tell, for there are several groups of rocks that become covered with sand for even years at a time before being exposed again at the wild hands of an ocean storm, or the bursting flood of water down the river during heavy rain. This rock however is more resilient than the others and appears more regularly. It sits closer to the water at the entrance to the bay and is less likely to be buried by sand and more likely to grow barnacles.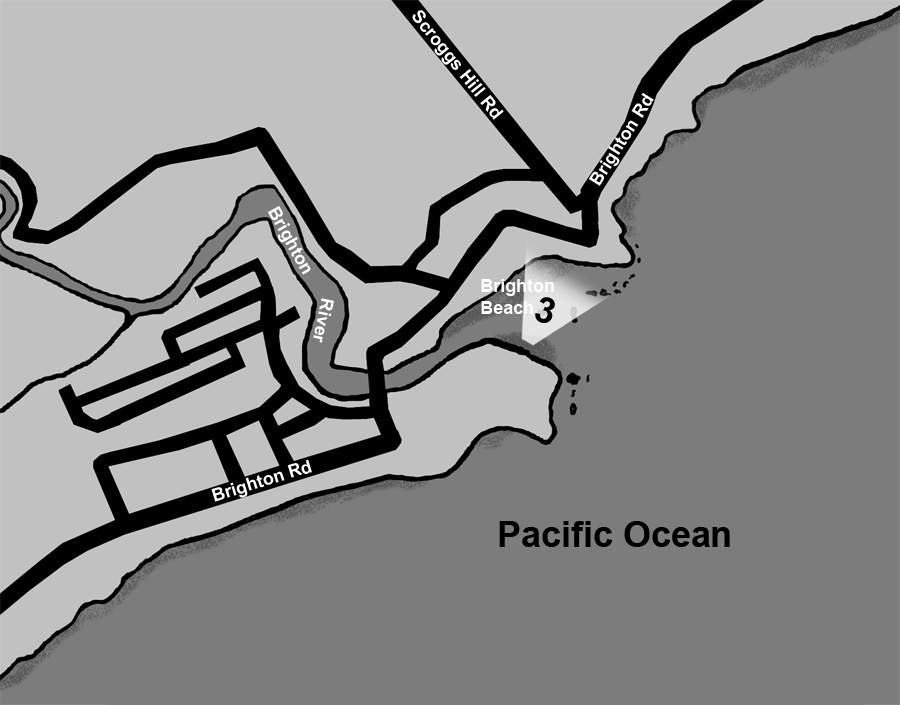 Map of Brighton Bay indicating where the image Resonance III was taken from
James K Baxter - Poem references
The Titan CP
The rock limbs of Prometheus
Lie twisted at the entrance to the bay
Like corroded Iron......
---

Think CP
It is a long time since he brought
the fire of Zeus to us Lightening our chaos, for many
aeons Hour by Hour the sea vulture
Has been tearing at his guts.

---
The Town Under the Sea 1962 CP
Kelp - bladders, tangled thrown
up by the cannibal sea

---
Letter From the Mountains 1968 CP
And the rock of barren friendship, has another shape....
Despair is the only gift;
When it is shared, it becomes a different thing; like rock, like
water.....
Tears from faces of stone.