Su/spend - experimental living plant work by Lloyd Godman based on the principle of super sustainability - © Lloyd Godman
Supported by the City of Melbourne through the Arts Grants Program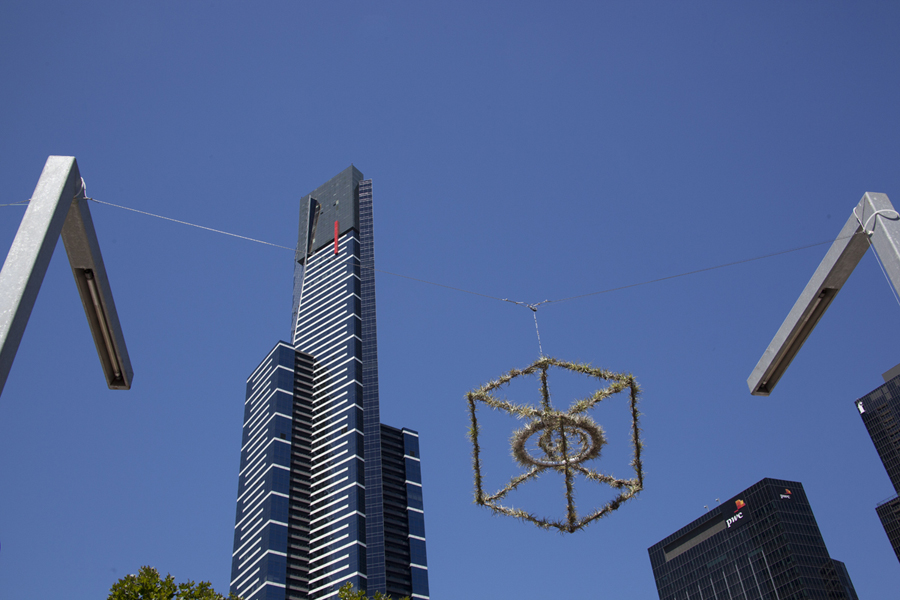 Airborne project - first installation at Les Erdi Plaza, Northbank, 9 Feb 29 2013, with Melbourne's tallest building Eureka tower in the background
Supported as a temporary art installation by the City of Melbourne, through the Arts Grants Program - the work was installed for 13 months and removed early 2014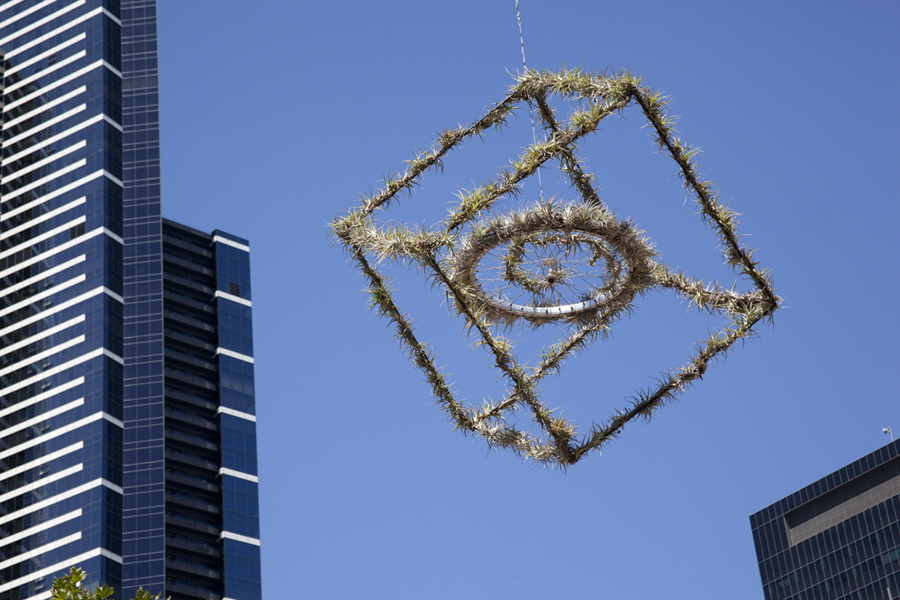 Airborne project - first installation at Les Erdi Plaza, Northbank, 9 Feb 29 2013, with Melbourne's tallest building Eureka tower in the background - the work was installed for 13 months and removed early 2014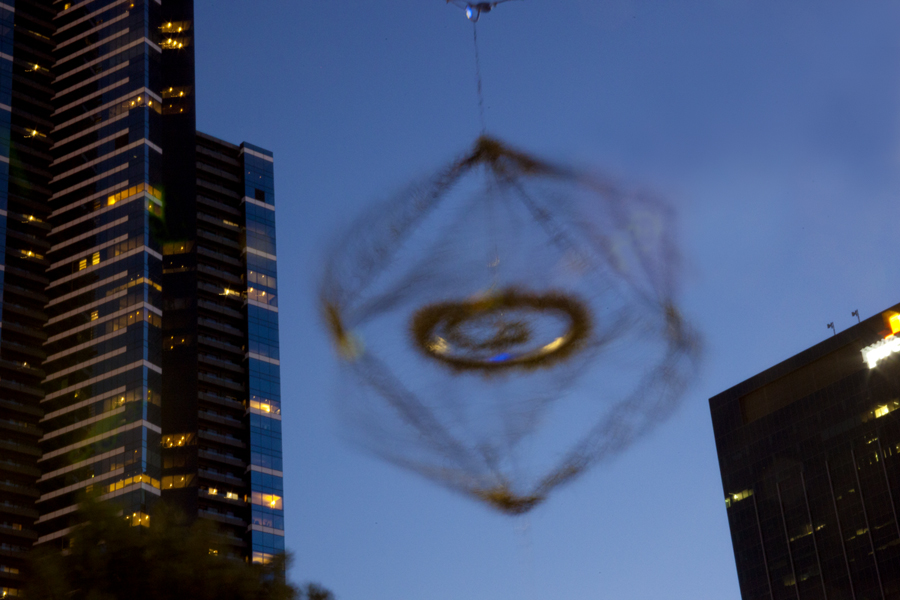 Airborne project - first installation at Les Erdi Plaza, Northbank, 9 Feb 29 2013, with Melbourne's tallest building Eureka tower in the background - the work was installed for 13 months and removed early 2014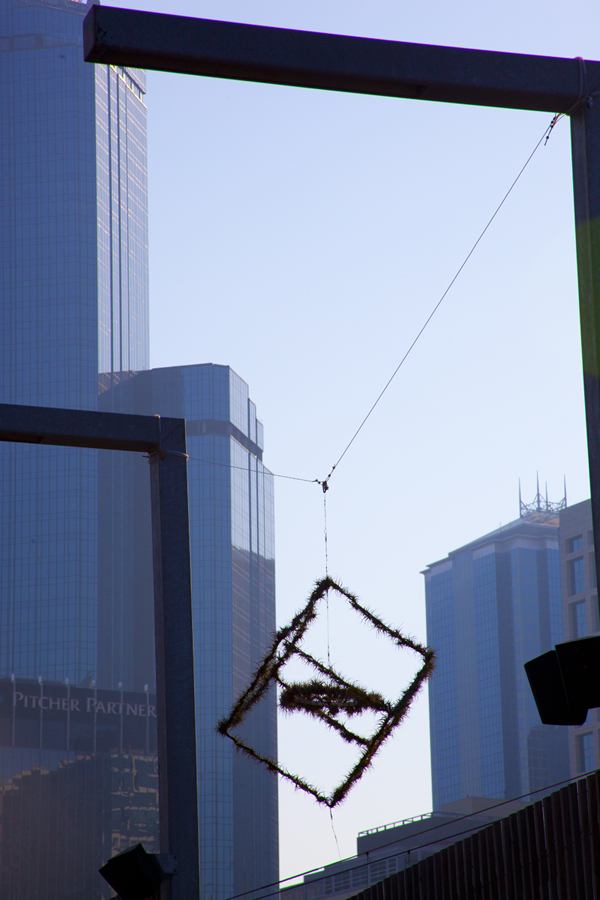 My thanks to Grant Harris, Stu Jones, Dave Stewart, Teneille Clerke, Haley Carr, Danny Sacchero, Matt Blackwood, Megan.Simondson, Mariano Imbrioscia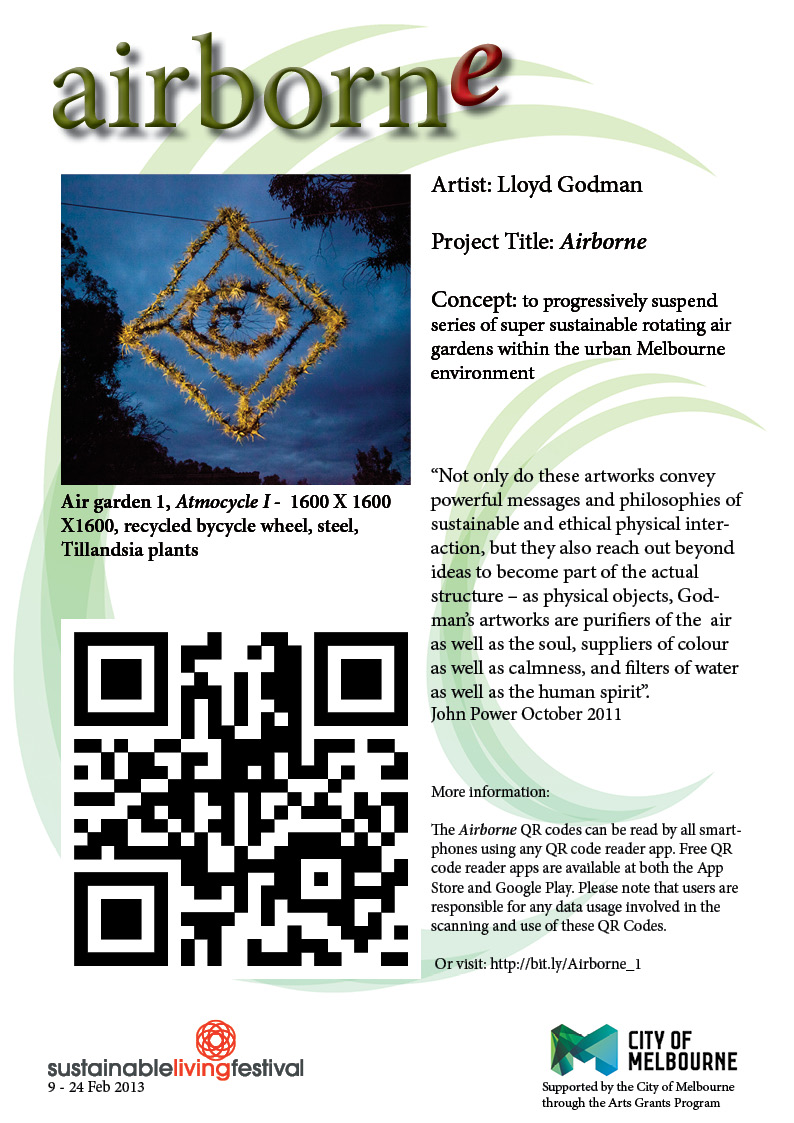 Air garden one installed Feb 2013 - Queensbridge Pedestrian precinct, Northbank ,of the Yarra River, Melbourne. The work is located on the fenced boundary between the public concourse and Platform 10 at Swanson St Station - intentionally the site is a difficult location to install living plants. The series of rotating air gardens extend between 8 existing lighting columns from SIGNAL towards Swanson St. As an urban concourse with high daily foot traffic, this is an area of significance to the inner city environment.
Media Release February 2013
AIRBORNE
As part of the Melbourne City Council 2013 Arts Grants, Lloyd Godman will install Airborne, the world's largest series of super-sustainable rotating air gardens high in the sky between existing poles at the Les Erdi Plaza, Northbank. With the first installation due to coincide with the opening of the Sustainable Living Festival (9 Feb 2013) further air gardens will be progressively installed every 4 weeks until  the full complement of 8 air gardens adorn the sky of the space, where they will remain till the end of 2013.
Since 1996, Artist Lloyd Godman has utilized Bromeliad plants in his art works, and a recent development is the creation of the super-sustainable rotating air garden, these exist nowhere else in the world!  These are simple structures adorned with air plants (from the genus Tillandsia) that take all water and nutrients through their leaves and require no soil medium or water system. While vertical and roof top gardens have become popular in major cities worldwide, these intriguing ground breaking air gardens step beyond earthly confines to rotate suspended in air space.  Unlike typical vertical gardens, there is no maintenance other than to harvest the plants biannually to retain the form which offers a resource to create further living works. Weighing very little, with multiple elements rotating independently on the slightest breeze, the air gardens throw intricate animated shadows on the ground or adjacent walls - these alter with the traverse of the sun and with the seasons. The concept behind the work is to create super - sustainable living art works within the built environment.
Dates: Commencing 9 February until the end of 2013
Location: Les Erdi Plaza, Queensbridge Pedestrian Precinct Northbank (near Signal & Sandridge Bridge)
FURTHER INFORMATION
http://www.youtube.com/watch?v=tCTdsSUauuQ
http://www.lloydgodman.net/suspend/MCC2013_1.html
http://www.lloydgodman.net/suspend/index.html
http://www.thatsmelbourne.com.au/Whatson/Exhibitions/Nature
E lloydgodman@gmail.com W lloydgodman.net - Twitter - @atmomachine
"Not only do these artworks convey powerful messages and philosophies of sustainable and ethical physical interaction, but they also reach out beyond ideas to become part of the actual structure – as physical objects, Godman's artworks are purifiers of the  air as well as the soul, suppliers of colour as well as calmness, and filters of water as well as the human spirit". - John Power October 2011

Supported by the City of Melbourne through the Arts Grants Program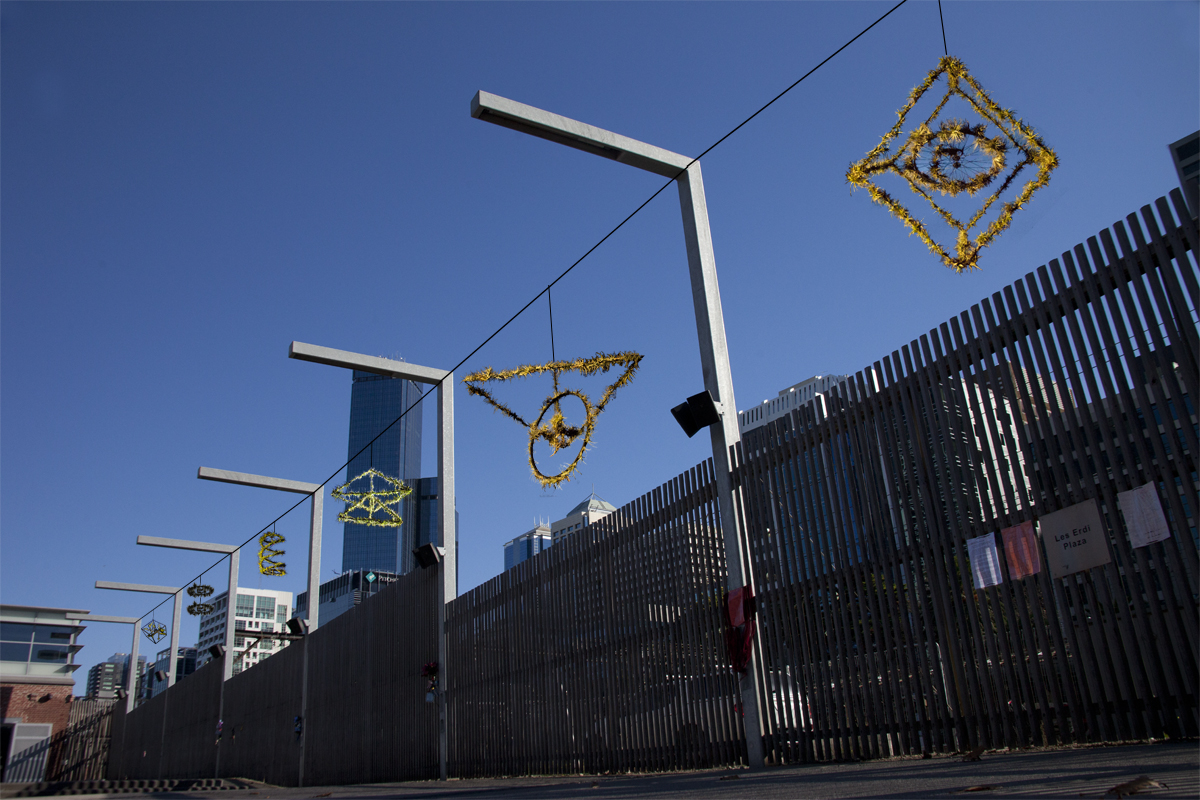 proposal - photo mock up of Airborne, a series of rotating gardens for Melbourne City Council, the proposal has been accepted and will be installed 2013